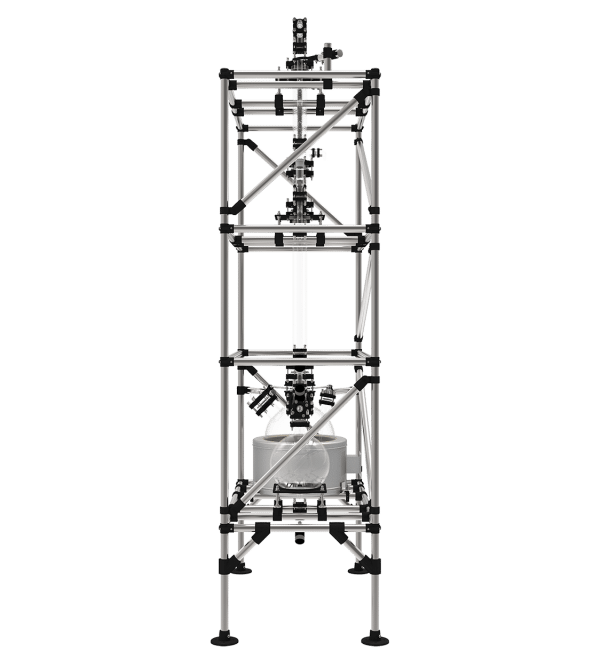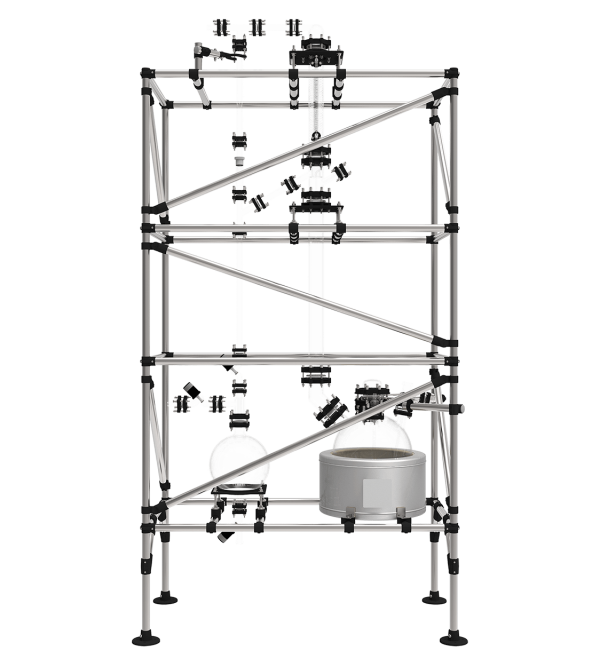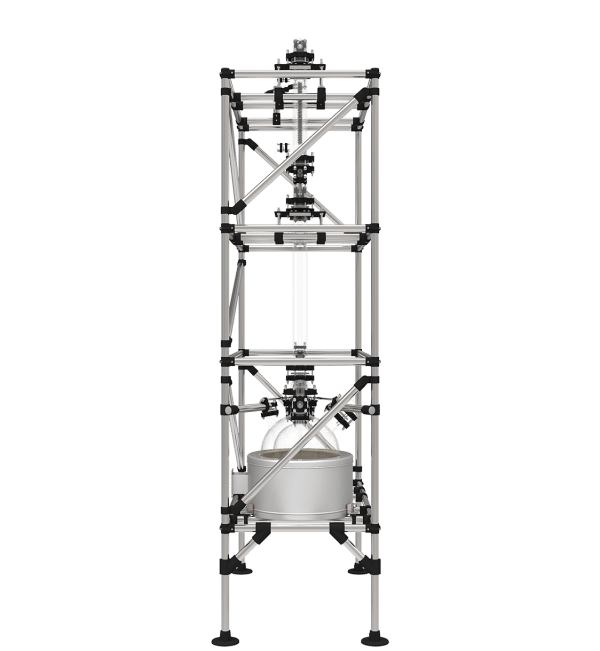 A wide range of distillation systems in both glass and stainless steel. Volumes range from 50 to 200 L in glass and from 50 to 100 Gal in stainless steel.

H.S. Martin distillation systems are designed to operate at atmosphere or under vacuum and are customizable in a variety of ways to suit practically any customers' requirements.
50 L, 100 L, 200 L
(spherical glass)

50 gal, 100 gal
(stainless steel)
Stirring options are available. Contact us for availability and application.
Systems for a wide range of processes, such as atmospheric, vacuum, theoretical plate, various packing & various reflux control.
Choose your preferred components from a variety of options available, including: flasks, columns, liquid dividers, condensers & product coolers.
Constructed of polished stainless steel with epoxy resin-coated components that will provide years of durable service. Other material is available on request.
H.S. Martin 50 L Distillation System
Complete 50 L spherical distillation system installed in a corrosion-resistant stationary framework. Electrically heated and equipped with a Ø80mm X 1000mm column, a continuous liquid separator, a 4.3 ft² (.4m²) condenser, and a 22 L receiving flask.
Up to 7 PSI (.5 Bar) to full vacuum
33 expansion borosilicate glass
Borosilicate glass or PTFE
Via aluminum-housed bottom high-temperature 230 V mantle
Instrumentation & controls
May be provided upon request Contact us for availability
*Other compounds available on request
Click on the blue circles to view more detail about the individual components featured in an H.S. Martin Distillation System (50 L depicted here, but features apply to all systems we provide).
H.S. Martin Distillation System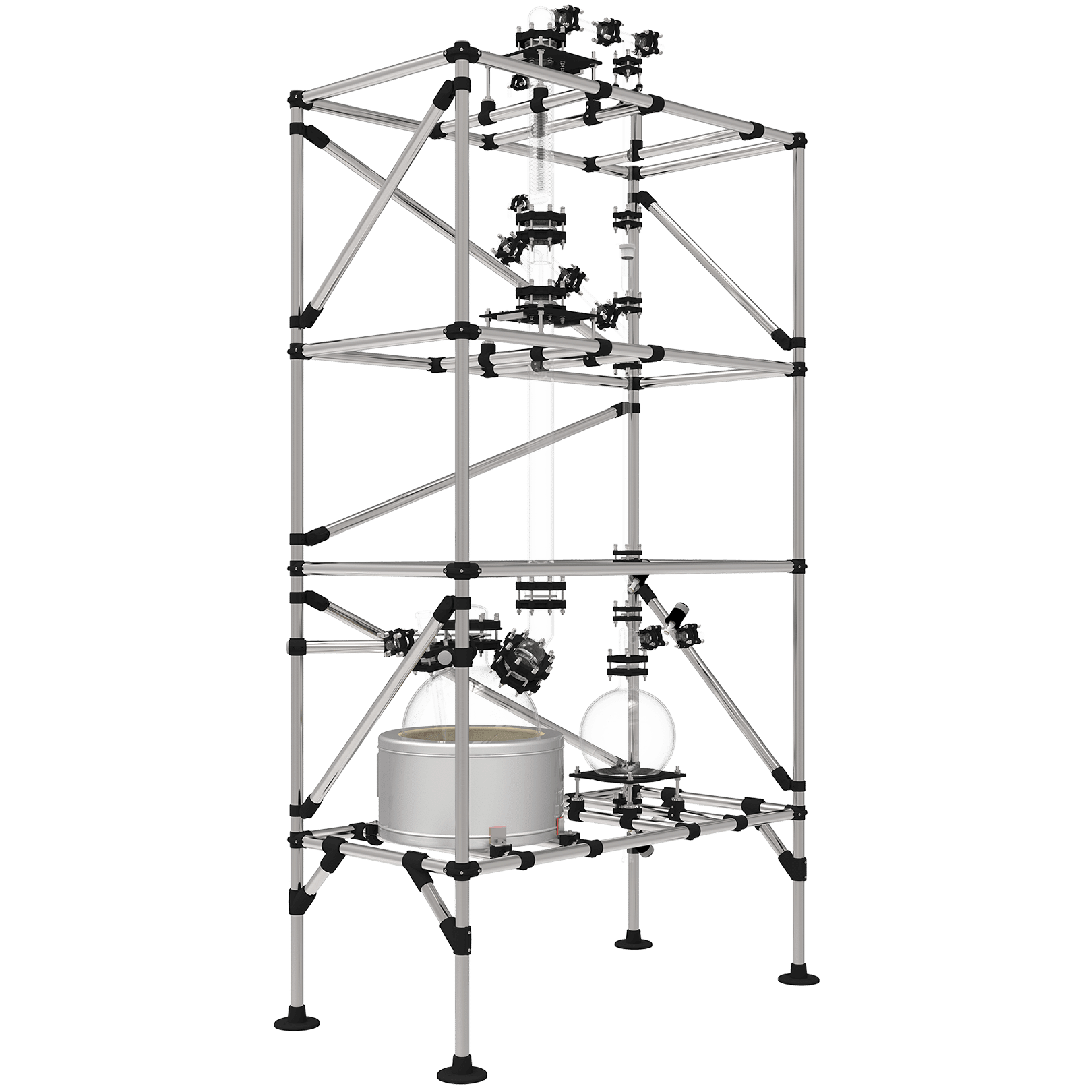 Condenser: Condensers with various heat exchange areas (HEA) are available. They are also stackable. This allows you to adjust the cooling capacity of the system to meet your specific requirements.
Added for Reflux Divider: Reflux dividers are available in different types. Manual reflux dividers allow for easy adjustment, and automatic reflux dividers permit precise reflux ratio control.
Column : Various column heights are available to enable you to set specified theoretical plate specifications. Various packing material is available depending on your chemical compatibility requirements. Different styles of packing are also available to meet your specific needs, i.e., ceramic saddle, perforated metal, Raschig rings and woven mesh to name a few.
Framework : Stainless steel frame with epoxy-coated components. Provides years of rugged, dependable service. Frames are adjustable to accommodate future modifications to the system, i.e., components are added or replaced.
Receiver Flask : Larger receiving flasks allow for longer run times and larger cuts to be taken without disrupting the process. Equipping multiple receivers allows for continuous operation as well as sampling.
Heating Mantle : Splash guards and other heating mantle accessories and options may be available. Please contact us to discuss your requirements.
A wide range of system scales
We provide standard system solutions for distillation in volumes ranging from 50 L to 100 Gal. Customized systems are also available on request.
* Available in spherical glass
** Available in stainless steel
We are experts in customization. If you don't find what you're looking for, or have any questions at all, just get in touch.