A wealth of experience and knowledge in manufacturing scientific glass solutions allows H.S. Martin to assist our customers in quickly finding the right solution for their process.
Through experience comes excellence
Experienced technical team with the ability to fully understand a customers' process requirements & work with them to quickly deliver the best tailored solution without the need for multiple design iterations.
Within our 15,000 ft²
in-house engineering workshop, we are able to manufacture metal & plastic components in a cost-effective & agile manner.
Unrivaled glass engineering
In-house engineering expertise & superior glass manufacturing allows us to combine glass & other materials at a level that standard glassblowing workshops cannot rival.
Superior glass processing
Our ultra high-vacuum and glass silvering processing enables us to deliver components and systems with unrivaled thermal performance.
Explore the H.S. Martin Distillation System
Click on the blue circles to view more detail about the individual components featured in an H.S. Martin Distillation System (50 L depicted here, but features apply to all systems we provide).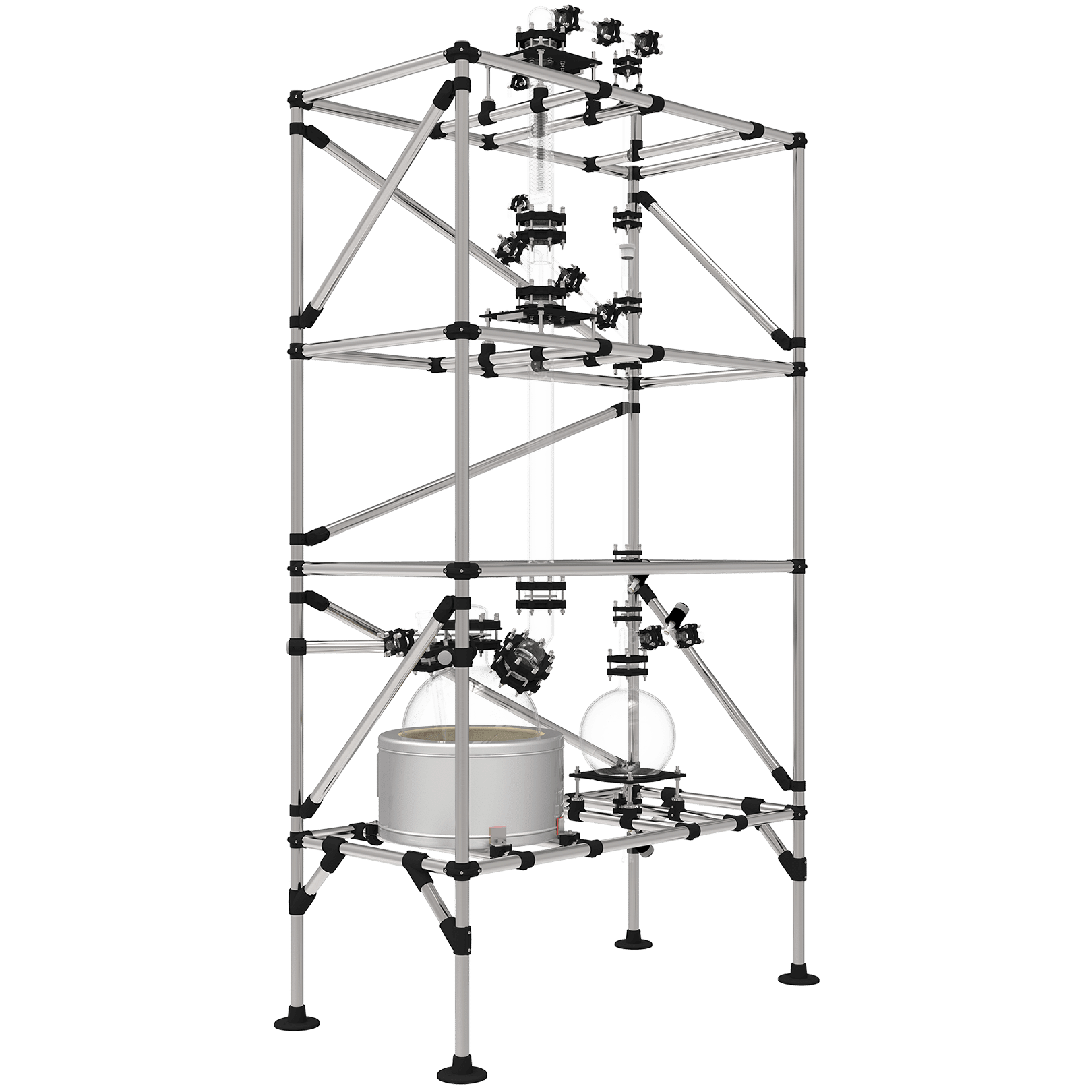 Condenser: Condensers with various heat exchange areas (HEA) are available. They are also stackable. This allows you to adjust the cooling capacity of the system to meet your specific requirements.
Added for Reflux Divider: Reflux dividers are available in different types. Manual reflux dividers allow for easy adjustment, and automatic reflux dividers permit precise reflux ratio control.
Column : Various column heights are available to enable you to set specified theoretical plate specifications. Various packing material is available depending on your chemical compatibility requirements. Different styles of packing are also available to meet your specific needs, i.e., ceramic saddle, perforated metal, Raschig rings and woven mesh to name a few.
Framework : Stainless steel frame with epoxy-coated components. Provides years of rugged, dependable service. Frames are adjustable to accommodate future modifications to the system, i.e., components are added or replaced.
Receiver Flask : Larger receiving flasks allow for longer run times and larger cuts to be taken without disrupting the process. Equipping multiple receivers allows for continuous operation as well as sampling.
Heating Mantle : Splash guards and other heating mantle accessories and options may be available. Please contact us to discuss your requirements.
Explore the H.S. Martin Reactor System
Click on the blue circles to view more detail about the individual components featured in a standard H.S. Martin Reactor System.​
Motor :
Multiple stirring motor options available. Standard 120/240V with VFD are suitable for most environments; Explosion-proof electric motors equipped with local and remote operating stations are available for hazardous environments; pneumatic gearmotors controlled with precision-flow valves are also available for facilities running air systems.
Framework : Stainless steel frame with epoxy-coated components. Provides years of durable, corrosion-resistant service. Frames are constructed to be rugged and long-lasting.
Cover : Customizable ports on the cover. Our standard cover configurations provide ample access for the most commonly used accessories. In the unlikely case that you require an access port or accessory port that isn't provided as standard, a custom cover can be made to suit your specific requirements.
Reactor : Easy to read reactor volumes. Jacketed reactors have bold graduations on the front and rear for clear, easy to read volume reference.
Receiver Flask : Tailor your system to suit your unique requirements with receiver flasks of different sizes for longer unattended operation, or even multiple receivers to allow for continuous operation without having to interrupt the process.
Caster : Mobile frames are equipped with stainless steel-framed swivel casters that feature dual-action brakes that lock both the wheel and the swivel function for added stability. The non-marring wheels will not mark up your laboratory floor when relocating your reactor system.