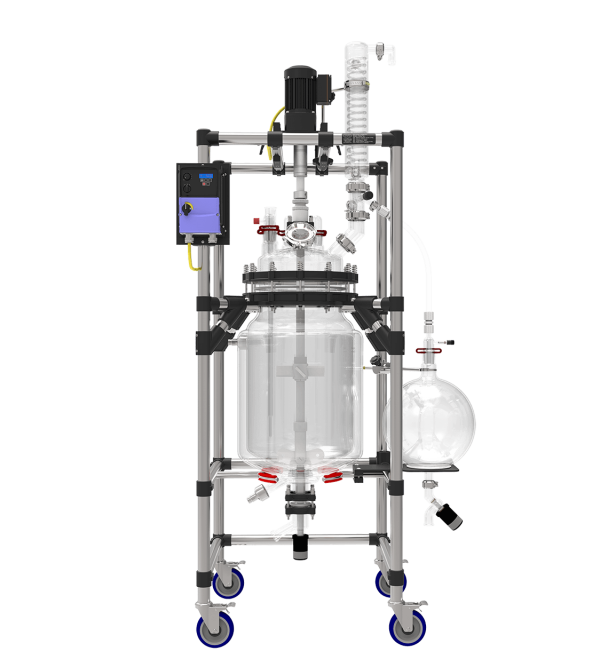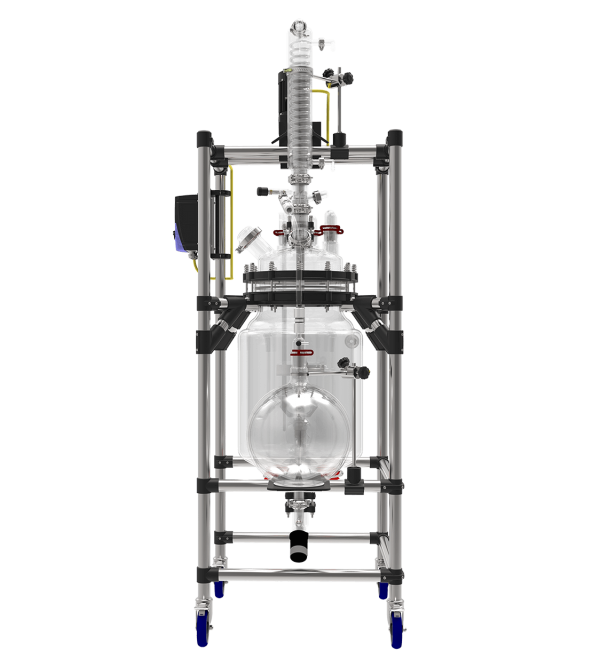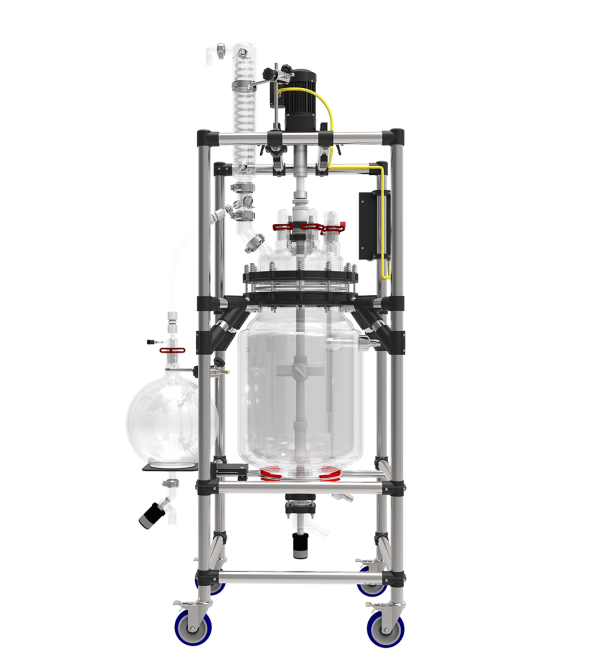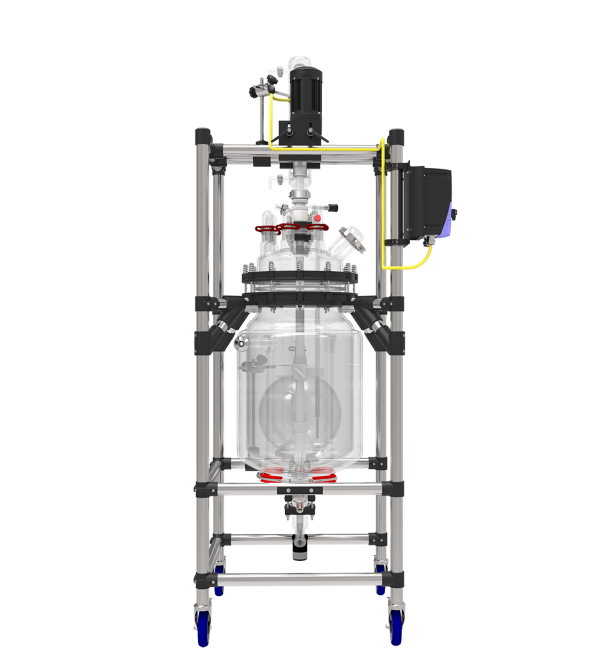 Standard reactor systems available in 10, 20, 30, 50, 75, and 100 L capacities. All reactors are equipped with flush bottom outlet valves to minimize dead space, and have bold graduations on both the front and rear to provide an easy to read volume reference. The corrosion-resistant, mobile framework of our reactor systems provides maneuverability around any facility.

Stainless steel framed casters feature non-marring polyurethane wheels and dual-action brakes that lock both the wheels and the swivel function for added stability and safety.
10 L, 20 L, 30 L,
50 L, 75 L, 100 L
AC Gearmotor with Digital Speed Controller | AC XP Gearmotor with Local and Remote | Control Stations | Air Gearmotor Reversible with Precision-Flow Valve
Borosilicate glass fabricated to ASTM industry standard specification (E438).
Jacketed vessels for heating and/or cooling, featuring bold graduations both front and rear to provide an easy to read volume reference.
Choose your preferred overhead stirring power source; AC electric, both XP & non-XP, or air (pneumatic).
H.S. Martin Reactor Systems
All standard H.S. Martin reactor systems are designed and manufactured with the following specifications.
Up to 7 PSI (.5 Bar) to full vacuum
33 expansion borosilicate glass
Borosilicate glass or PTFE
AC electric, XP & non-XP, or air (pneumatic)
As per specifications Other options are available
Explore the H.S. Martin Reactor System
Click on the blue circles to view more detail about the individual components featured in a standard H.S. Martin Reactor System.​
Motor :
Multiple stirring motor options available. Standard 120/240V with VFD are suitable for most environments; Explosion-proof electric motors equipped with local and remote operating stations are available for hazardous environments; pneumatic gearmotors controlled with precision-flow valves are also available for facilities running air systems.
Framework : Stainless steel frame with epoxy-coated components. Provides years of durable, corrosion-resistant service. Frames are constructed to be rugged and long-lasting.
Cover : Customizable ports on the cover. Our standard cover configurations provide ample access for the most commonly used accessories. In the unlikely case that you require an access port or accessory port that isn't provided as standard, a custom cover can be made to suit your specific requirements.
Reactor : Easy to read reactor volumes. Jacketed reactors have bold graduations on the front and rear for clear, easy to read volume reference.
Receiver Flask : Tailor your system to suit your unique requirements with receiver flasks of different sizes for longer unattended operation, or even multiple receivers to allow for continuous operation without having to interrupt the process.
Caster : Mobile frames are equipped with stainless steel-framed swivel casters that feature dual-action brakes that lock both the wheel and the swivel function for added stability. The non-marring wheels will not mark up your laboratory floor when relocating your reactor system.
A wide range of system scales
We provide standard reactor system solutions ranging from 10 L to 100 L. Customized systems are also available on request.
We are experts in customization. If you don't find what you're looking for, or have any questions at all, just get in touch.